About District
Mayurbhanj is a land- locked district with a total geographical area of 10,418 Sq.Km. and is situated in the Northern boundary of the state with district Head quarters at Baripada. The district lies between 21o 16' N to 22o 34' 'North latitude and 80o 40' E to 87o to 11' East longitudes. The district is bounded in the North by Midnapore district of West Benagal, Singbhum district of Jharkhand in the South, Balasore district in the west and by Keonjhar district in the East. To get the maps of Mayurbhanj.
Agriculture in Mayurbhanj District
Agriculture Employment in Mayurbhanj
Total Working Population : 1027797
Total Main Working Population : 618457
Total Agriculture Labour Population : 165423
Total Marginal Working Population in : 409340
Out of the total cultivable area of 4,47,214 hectares of the District Mayurbhanj 1,95,441 hectares (43.7%)constitute high land,1,24,730 hectares (27.9%) medium land and 27043 hectares (28.4%) low land. The Soil is generally acidic in reaction. The soil types noticed are sandy loam and lateritic, light textured with low water ratentive capacity.
In this district paddy is the major cultivated crop, followed by pulses and oil seeds.While there has been decrease in the coverage of Khariff paddy in high lands, the area under pulses, oil seeds and other cereals has been showing an increasing trend due to diversifications of cropping pattern in such land as important dry land farming strategy against the erratic rainfall.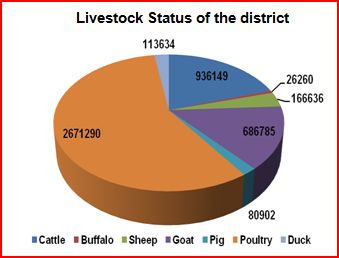 | (I) Geographical | | |
| --- | --- | --- |
| A.    | Latitude | 21o 16' N to 22o 34' North |
| B.    | Longitude | 80o 40' E to 87o to 11' East |
| C.    | Altitude | 20 m to 1,165 m from MSL |
| D.    | Geographical Area | 10,418.00 sq.km |
| E.    | Forest area | 4392.13 sq.km |
| F.    | Misc & tree grooves | 15 (' 000 ha) |
| G.    | Permanent pasture | 24 (' 000 ha) |
| H.    | Culturable waste | 10 (' 000 ha) |
| I.    | Land put to non agril use | 50 (' 000 ha) |
| J.    | Barren and unculturable land | 27 (' 000 ha) |
| K.    | Current fallow | 65 (' 000 ha) |
| L.    | Other fallow | 376 (' 000 ha) |
| M.    | Cultivable area | 441 (' 000 ha) |
| N.    | Net area sown | 376 (' 000 ha) |
| O.    | Gross cropped area | 440 (' 000 ha) |
| P.    | Annual normal rainfall | 1648.2 mm in 77 rainy day |
| Q.    | Temperature | Max: 390C & Min: 40C |
| | Cultivable Land | 437 ('000 ha) |
| |     High land | 43% |
| |     Medium land | 28% |
| |     Low land | 29% |
| (II) Census (According to population census, 2011) | | |
| A.    | Total population | 25,13,895 |
| | Male | 12,51,170 |
| | Female | 12,62,725 |
| B.    | Population density per sq.km | 241 |
| C.    | Literacy rate | 63.98% |
| (III) Agricultural | | |
| A.   |  Farm families | |
| | a) Small farmers | 1,63,122 ha. |
| | b) Marginal farmers | 1,34,204 ha. |
| | c) Big farmer | 43,476 ha. |
| | d) Agricultural labourers | 2,23,601 |
| B.   | Major crops grown | |
| | Kharif: | Paddy, Maize, Small millet, Arhar, Mung, Biri, Cow pea, Kulthi, Ground  nut, Niger, Sweet potato, other vegetables, Turmeric, Ginger, Mesta, Sunhemp.              |
| | Rabi:               | Paddy, Maize, Small millets, Arhar, Mung, Biri, Cow pea, Kulthi, Gram, Lentil, Ground nut, Mustard, Niger, Linseed, Sweet potato, Potato, Onion, Other vegetables, Chilli, Coriander, Garlic. |
| C.   | Kharif cropped area | 3,64,000 ha |
| D.   | Rabi Cropped area | 61,000 ha |
| E.   | Cropping intensity (%) | 121 |
| F.   | Total fertilizer consumption (kg/ha.) | 11.98 (X 1000 MT) |
| | Nitrogen | Kharif 5.94 + Rabi  1.67 = 7.61 |
| | Phosphorus | Kharif  2.19 + Rabi  1.03 = 3.22 |
| | Potash | Kharif  0.45 + Rabi  0.70 = 1.15 |
| G.   | Per ha. Fertilizer consumption (kg/ha) | |
| | Kharif: | 24 |
| | Rabi: | 63.48   |
| H.   | Soil type | Sandy loam, Red lateritic |
| I.   | Irrigation from different sources (in ha.) | |
| | Kharif | 24% |
| | Rabi | 10% |
SWOT Analysis of KVK
| Strengths | Weaknesses | Opportunities | Threats |
| --- | --- | --- | --- |
| KVK has 18 ha of well leveled cultivable land and seed processing unit | The farm is totally rain-fed | Cropping intensity can be increased by developing irrigation facility | Occurrence of droughts |
| There are fully developed administrative building and farmers hostel | No fencing and shortage of farm implements | Long duration vocational and sponsored training can be organized | Grazing of animals and theft problem |
| Nearer to the district head quarter and at centrally positioned | Communication facility is poor | Easy accessibility of the farmers may be possible | Non availability of transport during off hours |
| Developed demonstration units | Few available homestead land | Site of learning for extension personnel, farmers and others during exposure visit | |
| Group of spirited and dedicated staffs | Regular vacancies in technical and administrative staffs | Innovative projects may be taken up | |
| | More than half of the farmers are tribal and illiterate | Available of work force is more | Naxalite problem |
| | RRTTS is far away | | Backstopping of technology is not quickly available |
Disabled in Mayurbhanj
Disabled Population 54661
Blind 25199
Deaf 5950
Dumb 4306
Physical 13917
Mental 5289
Environment in Mayurbhanj District
Wildlife
Similipal: The Tourists' Paradise : Mayurbhanj enjoys the unique distinction of having a vast forest cover bristling with varied flora and fauna, stretches of lush green forest served with a network of perennial streams and its bracing climate contribute so much to make the district an ideal habitat for tropical birds and animals. In the eyes of tourists, the spot, which is bewitching and enthralling, is SIMILIPAL NATIONAL PARK the ideal habitat of animals like tiger, leopard, elephant, sambar, deer and birds. Added to it is the scenic beauty in extravaganza which keeps one amazed. A nature loving tourist can not but miss the majestic sal forests, cool, calm and expansive grassy lands, soaring peaks and the waterfalls of streaming pearls which make Similipal the " Dreamland of Nature".
The Elephants, dense forest, rugged hilly terrain majestically roaming wild animal and unfathomable magnetic power of to attract the tourists to its lap combinedly make Similipal 'The Tourists' Paradise. Truly speaking, any sensitive nature loving tourist, who happen to come here once is so mesmerised by the roar of the Tiger, swaying gait of the elephant, chirping of various tropical birds, shining of tender foliages of luxuriously grown sal trees and other tropical forest trees and rustling of perennial streams, that, they unwillingly make a retreat to the world full of din and bustle. Apart from that Similipal is the richest watershed in Orissa, giving rise to many perennial rivers-The Budhabalanga, The khadkei, The West Deo, The East Deo, The Salandi and the Sanjo are the major ones. Gorgeous BAREHIPANI (400mt) and JORANDA (150mt) waterfalls do give every visitors a mute call to come there over and over again. At night when one is cozily settled in the rest house it is exciting as well as chilling to hear alarm calls-shrill notes of CHEETAL, belling of SAMBAR or barking of MUNTJAC, generally indicating the presence of large predator-the LEOPARD or TIGER in the vicinity. During the day, sight of conspicuous foot prints of big cats and ELEPHANTS make the imagination run wild. During May-June, a large number of ORCHIDS bloom, exotically coloured and strangely shaped. They nestle on the trunks and branches of the tree for support in moist region. Generally 4 to 5 varieties bloom at a time for few days, while others patiently wait for their turn. Foot-long chains of 'FOX-TAIL orchid consisting of several hundred tiny translucent mauve coloured flowers are most conspicious. A visit to The RAMTIRTHA CROCODILE REARING CENTRE near JASHIPUR is an exposure of different kind. It provides insight into the intricacy of nature and the man's effort to restore the balance in nature. In totality Similipal is among some of the best creations of the God.
Mammals: Tiger, Leopard, Bison, Elephant, Spotted Deer, Bear, Ratel, Sambar, Mouse Deer, Otter, Barking Deer, Wild Boar, Chowsingha, Ruddy Mongoose, Pangolin, Giant squirrel, Flying Squirrel, Hanuman, Langur, Rh. Macaque.
Birds: Pea Fowl, Red jungle Fowl, Hornbill, Hill Myna, Grey wagtail, Alexandrine Parakeet, Serpent Eagle.
Reptile: Python, king Cobra, Cobra, Viper, Banded Krait, Monitor lizard, Forest Calotes, Chameleon, Mugger Crocodile, Black Turtle, Tent Turtle.
Forest Cover of Mayurbhanj
Mayurbhanj is a land of lush green forests. Its vegetation occurrence can be broadly classified as follows.
North tropical moist deciduous sal forests.
Northern tropical semi-evergreen forests.
Mixed deciduous hill forests.
High level sal.
Dry deciduous sal forests.
Plain sal forests.
Grass land and savannah.
The similipal forest of the district comprising a single compact area, represents virgin semi-ever green form. The growth of the forest is thick and impenetrable and is dominated by gigantic growth of large number of tree species chief being sal. Other species such as piasal, asan, neem, kusum, mahul, dhow and sisu are found all over the area too. The under growth is thick in similipal Reserve forest but thin towards the peripheri.
Statistical Figure of Forest cover
Reserve Forest: 894.38 Sq.km
D.P.F.(U/S): 23.15 Sq.km
U.D.P.F: 723.83 Sq.km
Un-classed Forest: 0.53 Sq.km
Total: 1641.89 Sq.km
The following nos.of V.S.S and V.F.P.C.s have been formed by the villagers of nearby forests for protection of forests and they have been imparted training and inspiration on the above facts. Sawing machines, press machines (for preparation of sal leaves tray, plates etc.) have been provided to the people of adjacent villages in order to keep away from forest theft. Mobile staff have been deployed with arms and ammunitions to patrol in and out side of forests.
V.S.S 151 nos 17,602.27 Hectare area protected V.F.P.C 132 nos 17,304.63 Hectare area protected.
HIV in Mayurbhanj District
Mayurbhanj is Category C District based on HIV Sentinel Surveillance 2004 - 2006
Industry
Industrial Activities by the District Industries Centre (DIC) : Though Mayurbhanj, at present, is one of the largest district and endowed with various natural resources, it has not developed as expected; industrially. Mayurbhanj, whose economy is mainly based on Agricultre, Forest and Mineral resources suffers an industrial backwardness and it may be attributed to inadequate infrastructural facilities like road communication, railway links telecommunication facilities etc. Lack of spread of modern education with modern technology and prospective entrepreneurs willing to take risk also stands on the way of rapid industrialisation of this district. The District Industries Centre (DIC), Mayurbhanj since its inception has been functioning as nodal agency for industrial development of the district. The units set-up are mainly demand_ based or resource_based which are available locally. The main industrial units are: Mineral grinding, Stone Crushing, China-Clay Washing, Ceramic industries, Fertilizer, Safety Matches, Paper Mill, Paints & Chemicals, Washing Soap, Electrical Items, High-Volatage Cable Manufacturing, Aluminium Utensils, Cold Storage, Mechanised Hatchery, General Fabrication, Sheet-Metals, Poly-leaf Cups and plates making, cement products, Sabai products, rice-Huller, flour mill and allied repairing and servicing etc.